During the Roman and early Christian eras (64 B.C. to 330 A.D.) the site of the Temple of Eshmoun and its miraculous waters continued to serve as a place of pilgrimage. Within the Phoenician temple site the Romans added the processional stairway (13), basins for ablutions and a nymphaeun with pictorial mosaics, largely still intact (15). Worn statuettes of three nymphs stand in the niches of the fountain.
On the left side of the Roman road, opposite the temple complex, is a courtyard with the remains of mosaics depicting the Four Seasons (14).
To the left of the Roman courtyard are the foundations of a Byzantine period basilica, the last major period represented at Eshmoun (16).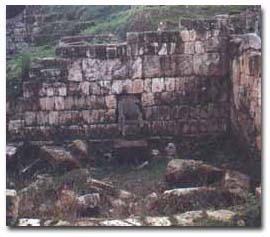 The throne of Astrate, flanked by two sphinxes